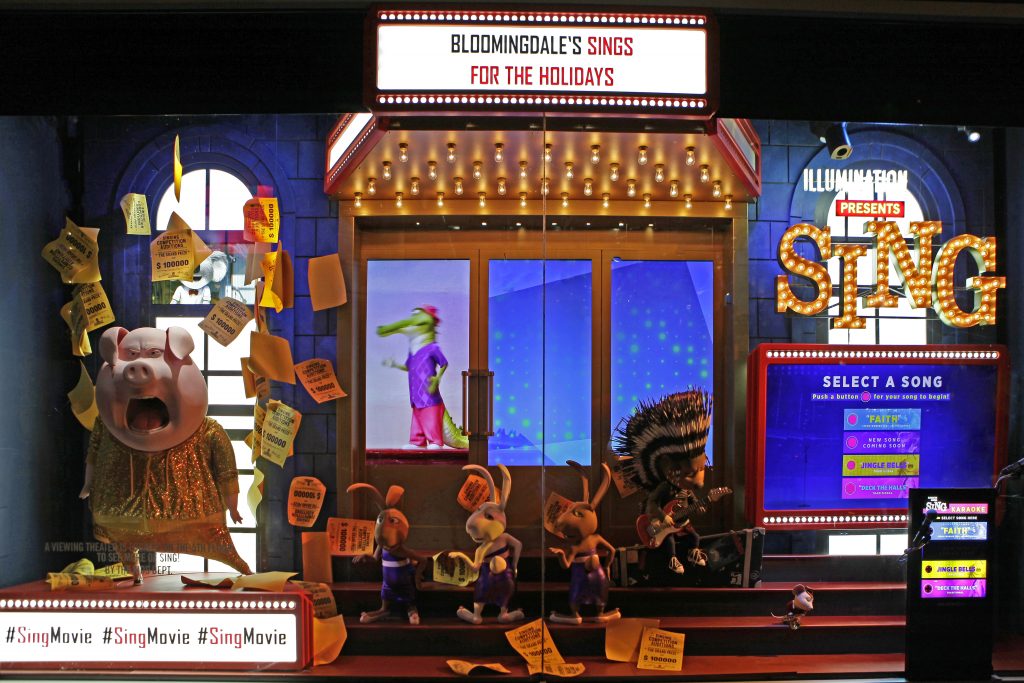 ©WindowsWear
Windows Wear is something all visual merchandisers and retail professionals should know. What is Windows Wear and who is Jon Harari behind it? Read my earlier post about WindowsWear in Finnish in here. 
1. Tell us a little bit about your background, who is Jon Harari?
I am CEO & Co-Founder of WindowsWear.com, the world's fashion
windows & displays online in real-time.  I co-founded
WindowsWear.com with Mike Niemtzow (Chairman and President) and Raul Tovar (Creative Director), and the company has an amazing team headquartered in NYC with a client base of global retailers and brands including Ralph Lauren, Harrods, DVF, Tory Burch, Marc Jacobs, Michael Kors, Ann Taylor, Nordstrom, and more.

©WindowsWear

WindowsWear's extensive, one-of-a-kind visual database dates back to 1931, and includes 700 different brands of the world's fashion
capitals including New York City, Paris, Milan, London, Barcelona, Los
Angeles, Tokyo, Hong Kong, Berlin, Mexico City, and more.  The site serves as the world's largest fashion window and in-store display database, and includes the largest community of visual creatives in the world.  WindowsWear also has the retail industry's leading store real-time communications App.

To honor the most innovative concepts from all around the world, WindowsWear annually hosts an annual global awards party to celebrate the world's best visual creative teams, founded the WindowsWear Museum at Berkeley College to celebrate, educate and preserve the world's best visual displays, and creates unique experiences like Fashion Window Walking Tours of New York City.

I also serve as an Adjunct Professor of Marketing at Baruch College
and serves as a board member of Berkeley College's Fashion Advisory Board, and several charitable non-profit organizations in New York City.  Prior to co-founding WindowsWear, he established U.S. market opportunities for top internationally-based designers through retail stores, wholesale, events, PR, and online. Prior to working in fashion, I was an investment analyst at Aurelius Capital Management, one of the world's top activist distressed investment hedge funds, and an investment banker at Lehman Brothers.  I graduated from the Business Honors Program at Indiana University, magna cum laude, and originally I am from North Potomac, MD and lives in New York City.
2. How did you end up founding a WindowsWear?
WindowsWear is headquartered in New York City, and was co-founded by Jon Harari, Mike Niemtzow, and Raul Tovar.

©WindowsWear

Mike had the idea of digitizing windows displays and creating a community around the content, and his background is in digital content and media, and approached me with the idea, as I co-Founded a women's clothing store in NYC.  We both worked together at Lehman Brothers and were good friends.  After working in finance for 6 years, I co-founded a women's clothing store carrying exclusive, fashion-forward Indian-based designers, and I knew firsthand the challenges retailers face in today's shifting digital environment.  We were excited about building a global database and community that has never been created before, with lots of room for exciting growth.  We knew in order to actually create a world renown company that would be working with the world's leading brands, we needed the right creative lead.  Soon after, we approved Raul Tovar, who I worked with at my clothing store to be Creative Director.  Raul is a world-renowned fashion photographer, and works with Vogue, ELLE, Harper's Bazaar, as well as many other
publications and celebrities.
3. How WindowsWear has grown?
We've grown from an initial concept to a global team of over 20 people in just 5 years.  Our growth is due to the vision of celebrating the global visual creatives that work in the industry. Visual merchandising is a billion $ industry employing tens of thousands of
people worldwide.  We are the only company elevating and celebrating the work of all the visual creatives globally in today's digital age, as well as having a global community of these creators where they can share ideas and work with each other.

New and exciting things we have going on — As future technologies develop, we are always staying on the pulse, and WindowsWear continues to serves as an endless source for research, inspiration, competitive analysis, and trends for retailers, designers, brands, and creative professionals worldwide.

©WindowsWear
4. How do you see the future of retail?
Fashion is an expression of one's identify, and technology is the
biggest change to impact our individual identities and the ways we
express them.  Fashion, art, culture, and community are all merging
with technology.  It's the reason why traditional technology companies like Apple, Microsoft, Google, and Amazon have all launched stores in traditional fashion districts around the world.  It's also the reason why we post editorial and lifestyle images on our social media feeds just like a fashion brand would, and we also add image filters to enhance our visual representations of ourselves.  The ways we are personally expressing ourselves in today's digital era is similar to how fashion brands have always expressed themselves.
5. How about the future of the visual merchandising?
In the near future, the proliferation of augmented and virtually
reality will not only change the way we interact with the physical
world, but also the fashion we wear.  Soon, our clothing will be able
to digitally engage and communicate just like comments made on a
friend's social media post.  Right now, most of our digital engagement
is limited through our mobile devices, but augmented reality will
quickly broaden to engulf the entire physical world.  Virtual reality
is not just about creating artificial worlds, as soon our actual
physical world will be digitized and create new opportunities for us
to digitally engage with it.  In the virtual reality world, we will
shop for fashion and will also pay for having better looking and more
personalized avatars of ourselves in that world, just like we pay more
for having a better appearance in the physical world.

3D printing will also change how our clothing is made.  There's a big
push in the industry for sustainability, as the world's fashion
industry is one of the world's biggest polluters.  As we digitize our
bodies and data analyzes our body size and our skin completion, then
personalized, customized clothing will be printed for us.  Fine,
personalized tailoring used to be a thing of the past, but it will
become part of the mass manufacturing process of the future.

©WindowsWear
6. Tell me about WindowsWear walking tours?
The WindowsWear Fashion Window Walking Tour
is a 2 hour leisurely stroll (approximately 25 city blocks) which offers insight and analysis into how the most creative retailers design their windows while exploring the world's most iconic brands along Fifth Avenue.  Join us for a walking tour of the world's premier fashion district in NYC, we offer a promo code "JewishVoice" as a 20% discount for you readers for tours! Experience the world's most famous fashion brands, learn how the most creative retailers design their windows, and explore the latest on display. Gain unique fashion and design insights from some of the world's most iconic brands. Our tour has a 5-Star rating on TripAdvisorand has been featured in The New York Times, Time Out New York, USA Today, and more.
7. WindowsWear has build up a museum on Berkeley College. Where did the idea came from?
The WindowsWear Museum at Berkeley College
brings renewed attention to the most creative elements of fashion, recognizes the professionals who create them, and works with brands to leverage this content in the digital era.  New York City is the world's fashion capital and is where brands come to life in the most exciting retail environments. Designers invest thousands of hours creating and producing one-of-a-kind, artistic, and compelling visual displays every year.  Season after season, these important displays of fashion and art attract millions of tourists, celebrities, fashion-elite, and influencers from around the world.  We partnered with Berkeley College because they have envisioned establishing a world-class destination for displaying the visual artistry of the fashion industry.

©WindowsWear
And finally Your greetings and tips to Finnish Visual Merchadisers!
Please reach-out and contact me jon.harari@windowswear.com.  Would love to hear what everyone is doing in Finland!
You find Windowswear on:
Thank you Jon!
All photos are ©WindowsWear