The Japanese have a proverb. 'fish rots from the head'. In short, this means there is no hiding place for poor Leadership. Poor leadership leads directly to poor company performance. This can happen in any category not just retail. Prime recent examples of this include VW, British Airways and United Airlines. My recent linkedIn articles and podcasts go into detail as to why this has happened as well as what could have been done to prevent it. This is how Anna Juusela and I connected. Anna commented on an article headlined 'No Customer Experience: No Business' which highlighted the problems at Toys R Us and others. She then took part in one of my London 'Business Case for Love' Taster Events.
Winning companies create memorable customer experiences
It is my belief that the companies who are winning on a global, regional or local level are creating sustainable relationships with their customers, by offering an experience people enjoy. They have created a strong culture, based on an authentic set of values and behaviours, which at its core, nurtures its roots, whilst embracing creativity and progressive curiosity. In an era of transparency and data breaches, employees want their leaders to be clear, democratic and collaborative. Employees want to be active members of the story they are building and vision they are selling. Great leaders lead great companies.
Business Case for Love philosophy
This philosophy is at the core of the approach I call the 'Business Case for Love'. It's a way of working that is unique, empathetic and is rooted in 'self-discovery'. It consistently unites cross functional teams around common goals. It is fast, cost effective and has a track record in shifting engagement levels that leads to more memorable experiences leading to sustained increases profitability. For the past 20 years I have been a pioneer in employee engagement programmes throughout the world, guiding Leadership Teams in the Automotive, Engineering, FMCG, Retail, Service, Technology and Government categories. In the UK, Europe and beyond.
Memorable Customer Experience Masterclass
In September 2018, there are two 'Memorable Customer Experience Masterclasses' which explore the philosophy and approach in depth. On the 18th and 28th September.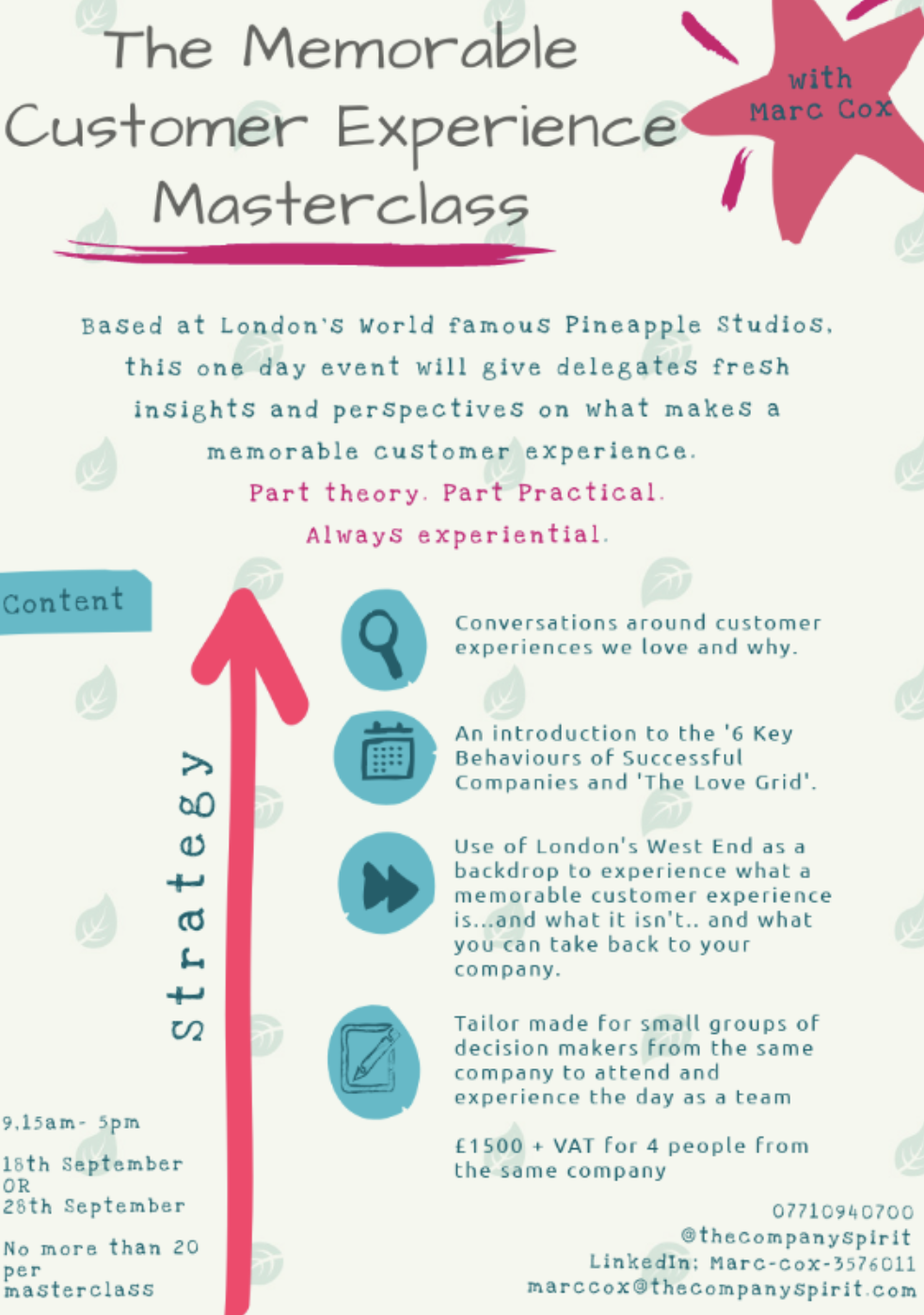 Anna and I have teamed up to to offer all those who are members of the Facebook and LinkedIn group 'Retail Pros-Global Retail Professional Network' a special 'group' price of £1000 plus VAT for 4 people instead of the normal £1500 plus VAT for 4 people.
For those who are curious, this will be a truly memorable experience.
See you in London?